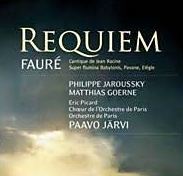 Concert The Requiem of Fauré
We have a very special choir concert planned for Friday 16 June at 6pm. We will be presenting the Requiem of Fauré with help from some friends of St John's who are professional musicians, and who support our musical worship whenever they are in the area. The bass soloist will be Padraig O'Rourke from Dublin, with his accompanist Michael Grant, and Swedish violinist Evabritt Gratte will be playing the "Pie Jesu", plus other sections of the Requiem.
The first half of the concert will consist of the "Five Mystical Songs" by Vaughan Williams for solo baritone and choir. Once again this will feature Padraig and Michael.
We are very fortunate to have the support of these talented people, so we encouage you to come and enjoy their music.
Share This Story, Choose Your Platform!