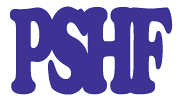 Details from the Philippines Self Help Foundation of the latest project funded by St John's:
Avha and Athena Aniasco
This is a proposal for Avha (11) and Athena (8) Aniasco, nieces of our field worker Phadelyn, and orphaned in the past three years. Avha and Athena's parents, Nelgie and Gilberto, were just 43 and 42 years old respectively on their demise. Nelgie's health started to deteriorate in early 2019. She complained of on and off fever, abdominal pain and she had blood in her faeces. However, because of the family's financial situation, Nelgie never received any proper medical attention and sadly died of these health problems in June 2020. Gilberto, on the other hand, was tragically shot to death by a cousin. Tensions began between them over the issue of a land boundary. Gilberto and the suspect had several confrontations over the latter crossing over the boundary of Gilbert's family's property. On the fateful night of 19th of February 2022 Gilberto was shot dead by the suspect when he was coming home on his motorcycle which he used to transport passengers.To date, the legal case is still ongoing and the suspect is in jail. We at PSHF have extended financial help for the legal expenses incurred by Phadelyn who is looking after her brother's case. This October will be the last court hearing and Gilberto's family are fully expecting a guilty verdict against the suspect.
Avha and Athena live together with their grandmother Atenodora (79). They attend a local school; Avha is in Grade 6 and Athena is in Grade 2. Ever since Gilberto died, it has been Phadelyn who has been supporting the children. Each month, Phadelyn provides 1,000 pesos (€17) for their school allowances and a sack of rice. Every weekend Phadelyn, her partner Nelson and daughter Nicole go home to be with them. We in the office are aware that Phadelyn and Nelson are also supporting Nelson's aged parents living in Cebu City. Just like Atenodora, Nelson's parents need maintenance medicines for their high blood pressure. On September 6, we (Richard, Ireen, Analyn and Phadelyn) held a meeting partly to discuss how we could assist Phadelyn's nieces. We agreed to help Avha and Athena with 2,000 pesos (€34) per month for their school and food allowances, starting in September, thus a grant of 24,000 pesos in a year. Avha and Athena have grown to become quite responsible. They can now be relied upon to help their grandmother with the household chores. Avha is happy to tell me that she is the one who cooks the rice. Also, both girls are proud to tell me that they are consistent honour students. Despite their misfortunes, Avha and Athena remain bubbly. I was quite touched when they told me that they would do their best in school, as they know their "mama" and "papa" will be happy watching over them. When they grow up, Avha wants to be a policewoman and Athena wants to be a teacher.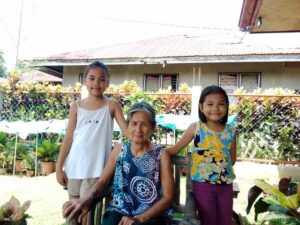 Avha and Athena with their grandmother Atenodora